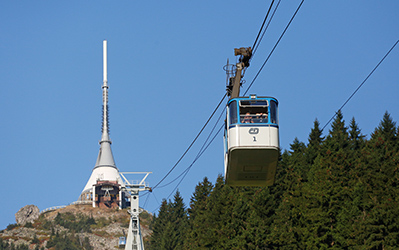 At the moment the cableway is out of service!
Make a trip to Ještěd by our aerial cableway!
The aerial cableway is in operation every day except Mondays from 8:00 to 19:00, always at regular intervals according to the timetable (line "LAN"). On Mondays the cableway runs from 14:00 to 19:00. From 1 November to 31 March cableway runs only to 18:00. When there is greater interest additional unscheduled journeys are made, operational conditions permitting, and if the fare for at least 15 persons is paid for each unscheduled journey.
How to get to the Aerial Cableway?
From Liberec Main Station at the "Nádraží" tram stop or from the railway station Liberec-Horní Růžodol from the "Janův Důl" tram stop take tram no. 3 to the "Horní Hanychov" terminus. The walk is about 10 minutes to the lower station of the aerial cableway. The overall time necessary to cover this distance is roughly 30 to 40 minutes. There is a parking lot at the aerial cableway's lower station for cars and buses.
Ještěd Aerial Cableway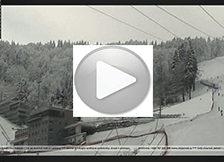 The Ještěd cableway is among the oldest classical aerial cableways. It was financed by Czechoslovak State Railways and built by the renowned Chrudim company of František Wiesner. Construction was launched on 15 June 1932 and the completed cableway began operating on 27 June 1933. Between 1971 and 1975 the cableway underwent an extensive reconstruction as a result of which it became a world-class cableway. The reconstruction was performed by the company Transporta Chrudim and the reconstructed cableway began operating on 31 December 1975.
---
All aerial cableway journeys will require reservations. Therefore, each passenger must have a reservation for the aerial cableway in addition to a travel document prior to commencing the journey. This applies to each journey separately. Reservations are not issued for transporting dogs or bicycles.
---
Regular journeys of aerial cableway specified in the valid timetable may be cancelled without compensation in inclement weather conditions (wind, storm, temperatures below -22˚C, etc.) or in the event of a technical failure. In the off-season (depending on weather conditions) there are announced technological stoppages of the cableway. Information about stoppages is posted on notice boards at railway stations and aerial cableway stations, and can be obtained by telephone on +420 485 104 287 or +420 972 365 582. Substitute transport is not provided during technological stoppages.
More information about the observation tower on www.jested.cz