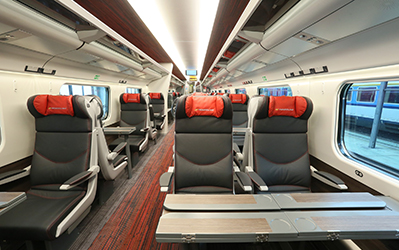 1st class benefits
More space, more comfort, more services. You'll enjoy all this in 1st class on our trains. Transfer to 1st class!
1st class offers
more space – in 1st class carriages there are generally fewer seats, and thus there is more space for you
greater comfort – 1st class seats are more comfortable, roomier and adjustable
more services – in 1st class on selected trains we offer premium service, and at selected stations you can take advantage of priority ticket counters and comfortable waiting areas
Premium service in 1st class
In 1st class on category EC and IC ČD trains, you will be attended to by conductors, stewards of the catering company and in certain cases also ČD stewardesses. You can encounter them on almost all category EC and IC ČD trains operating between Ostrava and Prague, and on selected EC trains operating between Prague and Břeclav. Upon boarding a 1st class carriage, ČD stewardesses or conductors will offer you still water and the daily press free of charge. They can then take your order for refreshments from the dining carriage with in-seat service.
In 1st class on SC Pendolino trains and in Business sections on railjet trains, you will also receive a bonus refreshment free of charge. We provide free refreshments to passengers with a reservation for 1st class, served in your seat and consisting of a welcome drink in the form of Bohemia Sekt sparkling wine (alcoholic or non-alcoholic) and a simple snack from our current offerings:
baguette, sandwich, vegetable salad, fruit salad or cereal with yogurt
hot beverage (coffee or tea) and cold beverage (still water)
Services at the station for 1st class passengers
To purchase a 1st class ticket, you can make use of ticket counters for priority ticketing in selected stations. With a 1st class ticket and reservation for a higher-quality train (Rx, Ex, IC, EC, SC Pendolino, railjet), you can enjoy comfortable ČD Lounge waiting areas at selected stations. There are ČD Lounge waiting areas at the stations Praha hl.n., Pardubice hl.n., Olomouc hl.n., Ostrava-Svinov, Ostrava hl.n. and Brno hl.n. Here you can relax or read the daily press before continuing on your journey. In all ČD Lounge waiting areas, your children can amuse themselves in new kids' corners furnished with toys. We also offer a free internet connection in ČD Lounge waiting areas.