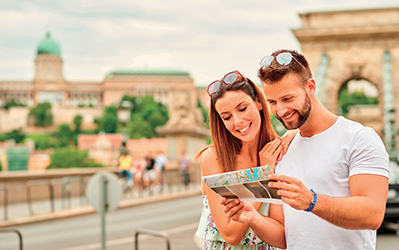 What is a gift voucher?
Give a trip by train to your friends and loved ones as a gift! Just purchase our gift voucher for a selected amount and inspire them to travel.
Where and how to purchase a gift voucher?
at a ticket counter
in the e-shop
A trip as a gift
A gift voucher can be used to pay for an inland or international ticket, a reservation (seat, couchette or sleeper) or an application on an In Karta card. A voucher can be a gift for truly anyone. Inspire your loved ones with a gift voucher and suggest they take an excursion by Pendolino to Mariánské Lázně or Olomouc. For those who commute to work by train, a gift voucher can be a welcome savings when purchasing a commuter ticket. And those who travel by train only occasionally can use their voucher to get an In Karta card, with which they can travel much more inexpensively.
You can purchase vouchers for CZK 50, 100, 200, 500 or 1,000, and when purchasing tickets you can even use multiple vouchers together. A voucher can thus also be a welcome contribution to the purchase of InterRail or SwissPass network tickets, which are ideal for getting to know Europe.
How to use a voucher?
You can use a voucher to pay for any purchase at a ticket counter or in the ČD eShop. When using a voucher in the ČD eShop, in the last step of your purchase enter the voucher's 12-digit alphanumeric code into the field "I have a discount code or voucher". When using a voucher at the ticket counter, first inform the cashier that you will be paying with a voucher, and give him/her (dictate) the 12-digit voucher code. With it, it is possible to purchase inland and international travel documents and reservations, ČD Kilometric Banks (only at a ticket counter), and applications on an In Karta card. A voucher cannot be used to purchase public transport coupons, timetables, travel documents for Integrated transport systems or other merchandise sold at ČD ticket counters (such as books, maps and ČD promotional items). Nor is it possible to charge up an electronic wallet on an In Karta card with a voucher. If a voucher's nominal value is higher than the price of travel documents purchased, the difference is not refunded. If the value of a voucher is lower, the customer will pay the difference in cash (at the ticket counter) or by card (in the ČD eShop). It is possible to use multiple vouchers at the same time within a single purchase (the values are added together).
A gift voucher cannot be returned or exchanged back for money. Travel documents paid for using a voucher are always marked as such. You can of course exercise your right under the transport contract for travel documents marked as such, but the returned amount will not be paid out at the ticket counter (the cashier will merely take the ticket and forward it to the central accounting facility for processing). You can find more detailed information about exercising your right under the transport contract in the ČD Contractual and Transport Terms for Public Passenger Transport (SPPO).