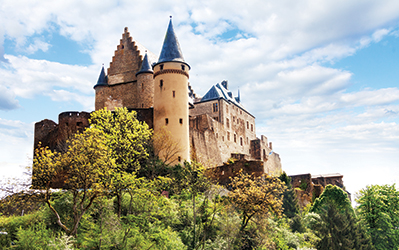 Are you travelling to Luxembourg?
Travel with us by train. We're preparing discounted First Minute Europe Tickets (Včasná jízdenka Evropa) to Luxembourg.
Where and how to purchase a ticket?
at an international ticket counter
in the e-shop (from announcement)
By train to Luxembourg
Despite the fact that there is no direct train connection between the Czech Republic and Luxembourg, you can travel in comfort from Prague, Ústí nad Labem or Plzeň to the capital city of Luxembourg with transfers in Germany. For selected connections, it will be possible as of a forthcoming announcement to purchase the discounted First Minute Europe (Včasná jízdenka Evropa) ticket in the e-shop or at ticket counters. For example, from Prague Main Station (Praha hl.n.), you will depart in the late morning and after three transfers you will arrive in Luxembourg in the evening. You can return in a similar manner, with an afternoon arrival in Prague.
↓ Outbound
SC 512
Sp 5286
ICE 26
RE 5128
Praha hl.n.
10:37
Cheb
13:14
13:38
Nürnberg Hbf
15:22
15:29
Koblenz Hbf
19:11
20:06
Luxembourg
22:29
↑ Return
RE 5109
ICE 27
Sp 5289
Rx 765
7:31
Koblenz Hbf
9:55
10:48
Nürnberg Hbf
14:27
14:37
Cheb
16:22
16:34
Praha hl.n.
19:41
---