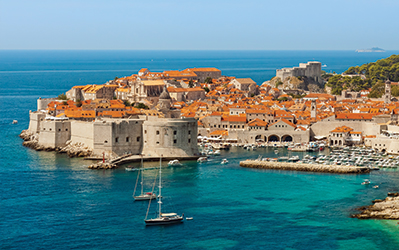 Are you travelling to Croatia?
Take advantage of a comfortable direct connection in a sleeper carriage between Prague and Split during the summer season.
Where and how to purchase a ticket?
at an international ticket counter
By train to the Adriatic coast
In the 2016/2017 timetable, we offer a favourite seasonal connection between the Czech Republic and Croatia. This is provided by a direct sleeper carriage running from mid-June until the beginning of September two times a week. The sleeper carriage departs Prague in the morning, and arrives in Split in the morning of the next day.
↓ Outbound
EC 277 / 1204 *
Station
↑ Return
1205 / EC 276 **
9:52
Praha hl.n.
18:06
12:23
Brno hl.n.
15:36
16:35
Budapest-Keleti pu
11:25
7:57
Split
18:17
* from Prague to Split from 20.6. until 1.9. on Tuesday and Friday
** from Split to Prague from 21.6. until 2.9. on Wednesday and Saturday
To Zagreb via Vienna
When travelling outside the summer season, a connection with a transfer can be used. For example, it is possible to travel comfortably to Zagreb on railjet and EuroCity trains from Prague or Brno with a transfer in Vienna.
---
Travelling in sleeper and couchette carriages
---
You can obtain more detailed information about train journeys to Croatia from our Search for a Connection page.