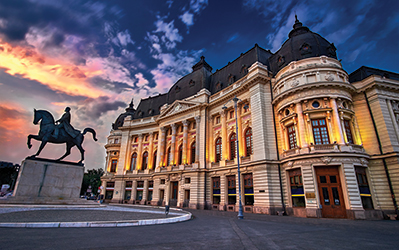 Are you travelling to Romania?
You can get to Romania from the Czech Republic aboard comfortable EuroCity and EuroNight trains with just one transfer in Budapest.
Where and how to purchase a ticket?
at an international ticket counter
By train to Bucharest and the Carpathians
Despite the fact that there is no direct connection in the 2016/2017 timetable between the Czech Republic and Romania, you can travel in comfort from Prague, Pardubice or Brno to the capital city of Bucharest with a transfer in Budapest. You will depart Prague in the late morning and arrive in Bucharest at noon on the next day. You can return in a similar manner, with an afternoon arrival in Prague. You can travel in comfort not only to the capital city, but also e.g. to popular departure points for expeditions in the Romanian mountains.
↓ Outbound
Station
↑ Return
EC 279
EN 473
EN 472
EC 278
11:52
Praha hl.n.
16:06
14:23
Brno hl.n.
13:36
18:35
19:10
Budapest-Keleti pu.
8:50
9:25
9:32
Brasov
20:19
12:10
Bucuresti Nord Gr.A.
17:45
---
---
You can obtain more detailed information about train journeys to Romania from our Search for a Connection page.