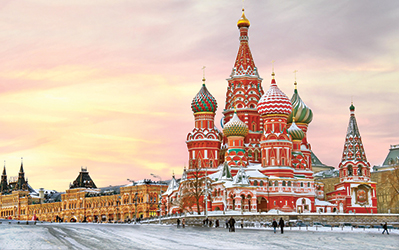 Are you travelling to Russia?
Take advantage of a comfortable direct connection in a sleeper carriage between Prague and Moscow.
Where and how to purchase a ticket?
at an international ticket counter
To Moscow faster and in greater comfort!
Overnight train EN 404/405 "Vltava" sets off on its long journey Bohumín - Moscow two times per week in each direction and also pulls direct carriages to Prague. The train departs Prague in the evening and arrives in Moscow in the evening on the next day. In the opposite direction, it is possible to travel from Moscow in the morning with arrival in Prague in the morning on the next day.
↓ Outbound
Ex 545 / EN 405 *
Station
↑ Return
EN 404 / Ex 544 **
18:22
Praha hl.n.
9:39
21:51
Ostrava hl.n.
6:05
14:47
Minsk Passažirskij
15:14
23:25
Moskva Belorusskaja
6:33
* departure from the Czech Republic to Russia on Saturdays
** departure from Russia to the Czech Republic on Fridays
---
You can obtain more detailed information about train journeys to Russia from our Search for a Connection page.