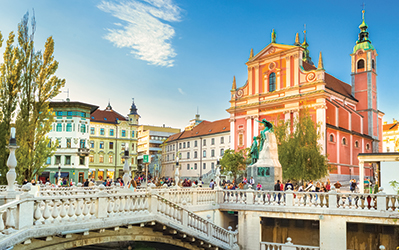 Are you travelling to Slovenia?
You can take advantage of a comfortable connection aboard railjet trains with transfers in Vienna and Villach.
Where and how to purchase a ticket?
at an international ticket counter
in the e-shop
By train to Ljubljana
In the timetable 2019/2020 there are no direct train connections available to Slovenia. The best way to travel to Ljubljana from Prague, Pardubice or Brno is on a connection with transfers in Vienna and Villach, for which you can purchase the affordable First Minute Europe to Slovenia ticket using ČD e-shop or at ticket counters.
---
---
You can obtain more detailed information about train journeys to Slovenia from our Search for a Connection page.