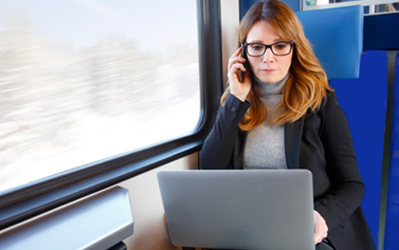 Are you planning a business trip by train? Take our advice.
Want to travel by train more frequently or regularly, either in the Czech Republic or abroad?
At the ticket counter, we'll help you optimise your ticket price, book a block of seat reservations or pay by invoice.
Contact us on obchod@gr.cd.cz
Planning a corporate excursion?
We offer some examples of where to go by train:
Prague – Ostrava route or reverse
Prague – Olomouc – Vsetín route or reverse
Prague – Brno – Břeclav route or reverse
At selected stations we'll also rent you a bicycle.
Want to arrange for special refreshments on your journey?
Through the company JLV, a.s., which provides catering services on ČD trains, it is possible to secure refreshments during the journey over and above standard services.
Contact us on obchod@gr.cd.cz