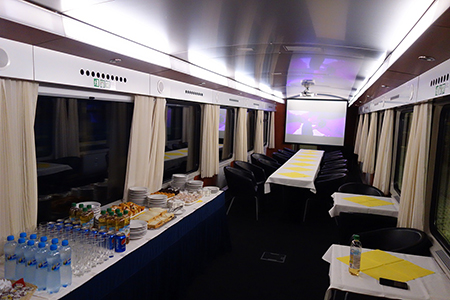 Trains and carriages made to order
Thinking about a non-traditional corporate presentation? Or would you like to utilise your train journey for a business meeting?
A private train or carriage can transport you to a teambuilding event, a wedding (and after the ceremony you can host a banquet inside), or a birthday party. But the train or carriage can also become the venue of the celebration! We can even arrange trains for filming. Have a look at our offering of trains and carriages for rent.
Vlaky a vozy na objednávku
A private train can transport you practically anywhere where the tracks go – the time and place are up to you. We are able to dispatch a special train for groups of various sizes. The smallest vehicle is a series 810 railcar with a capacity of 48 seats, but we can also organise a train for 1000 passengers. The train can be composed of modern or historic carriages. In addition to standard seating carriages, we can also offer sleeper carriages, carriages with a large amount of storage space (e.g. for transporting bicycles) or special carriages ideal for a social event, banquet, conference or business meeting.
Examples of routes and destinations:
Praha Smíchov – Hostivice – Rudná – Praha Smíchov circuit, c. 1 hour
Praha Masarykovo n. – Hostivice – Rudná – Praha Smíchov – Praha Masarykovo n. circuit, c. 1.5 hours
Praha Smíchov – Beroun – Rakovník – Kladno – Praha Smíchov or Praha Masarykovo n. circuit, c. 4 hours
Prague – Čerčany – Davle – Prague (Sázava Pacific) circuit, c. 3 hours
Prazdroj brewery in Plzeň, Kozel brewery in Velké Popovice
Nelahozeves Chateau (journey from Prague c. 40 minutes)
Railway Museum in Lužná u Rakovníka or Zlonice u Slaného (journey from Prague c. 1.5 hours)
The Coal Mine (Uhelný mlýn) event and congress centre in Libčice nad Vltavou (40 minutes from Prague including passage on the siding in front of the Coal Mine building)
Brno – Zaječí – Břeclav – Valtice – Mikulov – Moravský Krumlov – Brno circuit, c. 3 hours
Ostrava – Nošovice brewery
České Budějovice – Český Krumlov or České Budějovice – České Velenice – Třeboň – Veselí nad Lužnicí – České Budějovice circuit, c. 3 hours
Plzeň – Domažlice – Klatovy – Plzeň circuit or Plzeň – Sušice – Klatovy – Plzeň circuit, c. 3 hours
Possible destinations are not limited to the Czech Republic – a private train can be dispatched e.g. to Slovakia, Poland, Hungary, Austria or Germany.
Price guidance: rental of a series 810 railcar (journey or idle time) for c. 3 hours, distance travelled c. 100 km: CZK 14,800 without VAT (VAT is 21%)
Attaching a special carriage to a scheduled train is a less flexible but more affordable alternative to a private train. It is possible to attached one or more standard carriages, including sleeper or special carriages. These carriages will be reserved exclusively for your group. Is your destination a station where the train is not scheduled to stop? No problem. We'll arrange an extraordinary stop there.
We can also arrange for catering, the form of which will depend on the selected connection and route.

Historic trains
Historic trains are special trains composed of rail vehicles which you won't see in regular operations. These vehicles are now usually museum exhibits. Such a train can be headed by a steam engine or a historic diesel or electric locomotive. We have carriages from the 1940s with wooden benches, as well as more modern ones from the 1950s and 1960s. For smaller groups, we also have historic railcars from the 1940s – 1960s. You can find more detailed information and place orders on www.cdnostalgie.cz.