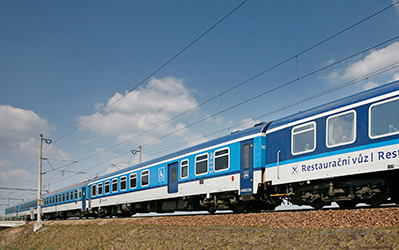 Considering a non-traditional company presentation in the form of a special train? Or would you like to use your train journey for an undisturbed business meeting? Then our offering of special trains or carriages is just for you.
Special trains
Special trains will transport you at times and on routes of your choosing, to the extent possible. We will draw up a timetable for you that cannot be found in any guide and at the same time will help to make your wish come true. We are able to dispatch trains for passenger groups of various sizes and transport you as close as possible to the site of your subsequent event. The train can be composed of modern or historic carriages. You can select both the locomotive and the carriages which will compose your special train. We can take you for a ride e.g. on an accommodation train with dining, sleeper and couchette carriages. We can also prepare a special train for various occasions (company meeting, birthday celebration) with saloon, entertainment or dancing carriages, for example. Special trains can consist of all available types of carriages, both modern and historic, in various combinations to the extent technically possible. We can provide carriages in combinations for which the reserves of ČD's rolling stock for passenger transport allow. Should a certain type of carriage be unavailable, we can even rent one from another rail operator.
Historic trains
Nostalgic trains are very popular, especially among longstanding ČD customers. These are also special trains made to order and composed of historic vehicles which you won't see in regular operations. These vehicles are now usually museum exhibits. The train can be headed by one of the steam, older electric or diesel locomotives or just a railcar. We offer a whole range of historic railcars, their operational costs are low and they are suitable for smaller groups. We provide all historic vehicles to you per your request. Your selected historic traction vehicle will be connected to the passenger carriages which best meet your requirements.