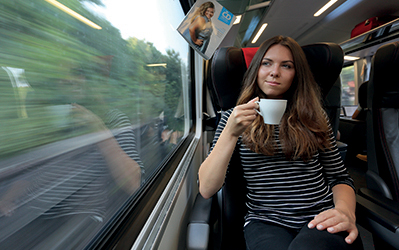 What is a seat reservation?
We'll hold your seat on the train. All you need to do is choose which one. What's more, you can get a seat reservation free of charge in the e-shop!
Where and how to get a seat reservation?
at a ticket counter
in the e-shop
from the conductor on the train
What is a seat reservation
A seat reservation is a travel document by which you reserve a specific seat on the train. With a regular ticket, you can board any train on your route, but with a seat reservation you are guaranteed a specific seat in a specific carriage of the train.
Why get a seat reservation
You don't need a seat reservation for most of our trains. But if you want to be sure that you'll get a seat and you want to select a seat, e.g. by a window, then you'd better get a seat reservation. We usually sell seat reservations for all of our trains except for regional (Os) and regional fast (Sp) trains.
Certain trains have required reservations, e.g. SuperCity (SC) trains. For such trains, it's always necessary to purchase a reservation. We'll inform you of this in the timetable.
Free seat reservations in the e-shop!
For inland tickets, we offer free seat reservations in the e-shop, with the exception of SC Pendolino trains, seats in Business Class on railjet trains and selected night trains. You can conveniently get a seat reservation when purchasing a ticket and you needn't pay anything for it. In the e-shop, you can also usually select your seat right from the carriage seating map, with the exception of trains which originate abroad – their reservations are recorded in foreign reservation systems (German, Austrian, Polish, Hungarian or Slovak), which unfortunately do not allow for the selection of a specific seat.
When can I purchase a reservation and when can I purchase an express reservation?
You can purchase seat reservations up to 60 days prior to your train's departure. Sales usually terminate at the time of the scheduled departure from your boarding station.
Reservations for seats designated on the train as express reservation ("expresní rezervace") are sold until the train's departure from the station in question, and therefore do not contain a specific designation of the reserved segment.
I want a window seat
For trains originating in the Czech Republic, we offer the option to select a specific seat. You can select your preferred seat on the carriage seating map. For certain trains, it's even possible to select a seat according to the direction of travel. Take advantage of this option when purchasing in the e-shop and when using the Můj vlak ("My Train") application for smartphones. It is usually possible to purchase a reservation for a specific seat no later than 2 hours prior to the train's departure from the originating station; thereafter, the number of seat reservations on sale is restricted.
---
We're travelling in a group
When you book a journey for a group of 6 or more passengers in advance, we'll reserve seats for you on the train, including free seat reservations if this is possible.
More about travelling in groups
---
ČD's Reservation Facility for International Transport
Requests for international reservations which cannot be handled in the ticket office and reservations for groups with special requirements (company groups, unusually large groups, etc.) are handled by ČD's central reservation facility.
Contact information
České dráhy,a.s., Kancelář NGŘ pro obchod | Oddělení obchodní | UMIKA
Central Reservation Office
Hybernská 1014/13, Prague 110 00.
e-mail umika@gr.cd.cz.
Operating hours monday - friday: 7:00 - 15:00