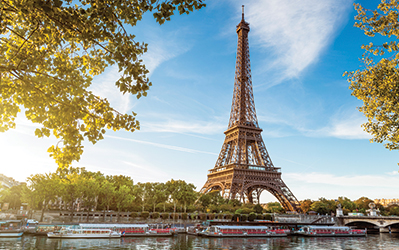 Are you travelling to France?
Take advantage of a fast connection to Paris with one transfer in Germany or in direct sleeper carriages to Nice with the option to board in Bohumín or Břeclav.
Where and how to purchase a ticket?
at an international ticket counter
By Train to Paris
No direct train connection between the Czech Republic and Paris exists in the 2016/2017 timetable. The easiest variant is, for example, a journey with a transfer in Berlin or Mannheim. The fastest daytime connection, using the German Railways' IC Bus from Prague to Mannheim and onward by ICE or TGV high-speed train to Paris, takes approximately 11 hours. Travel documents for the journey to France and for TGV trains can be purchased at all ČD international ticket counters.
You can obtain more detailed information about train journeys to France from our Search for a Connection page.
From Moravia and Silesia direct to the French Riviera
To travel to France, you can use direct long-distance trains operated by Russian Railways (RZD) on the Moscow – Nice route, which run once per week and stop on Czech territory in Bohumín and Břeclav. It is also possible to use this train to get to nearby Monaco. The trains are composed of comfortable sleeper carriages only; it is possible to board only with a pre-purchased ticket with a global price.
↓ Outbound
R 409 *
Station
↑ Return
R 408 **
9:07
Bohumín
21:49
11:18
Břeclav
19:51
2:55
Milano Rogoredo
4:37
4:34
Genova Piazza Principe
2:22
8:19
Monaco-Monte Carlo
22:05
8:34
Nice Ville
21:49
* from Bohumín and Břeclav to Nice on Friday
** from Nice and Břeclav to Bohumín on Saturday
---