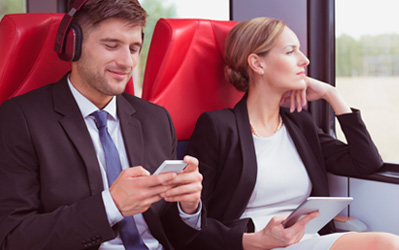 Which ticket to use for business trips?
Don't know which ticket is best for you? Contact us on obchod@gr.cd.cz, specify the nature of your journeys (how many people are travelling, how often, what are the most common destinations, whether the same people always travel or not), and we'll prepare a customised offer.
In Karta with the IN 100 discount
the ticket is non-transferable and issued for a specific person
travel in 2nd class without purchasing tickets
transport of oversized luggage and a dog free of charge
passengers with tickets for 2nd class can purchase SC reservations for CZK 35 - 500
passengers with tickets for 1st class can purchase SC reservations for CZK 100 - 500
it can also be used as an electronic wallet (for cashless payments at ticket vending machines, with the conductor or at the ticket counter)
25% discount on most tickets to destinations abroad
Price: CZK 21,990
If you are interested in purchasing a larger number of In Karta cards with the IN 100 application, please contact us on obchod@gr.cd.cz. Our sales managers can arrange payment by invoice or discounted terms of purchase with you.